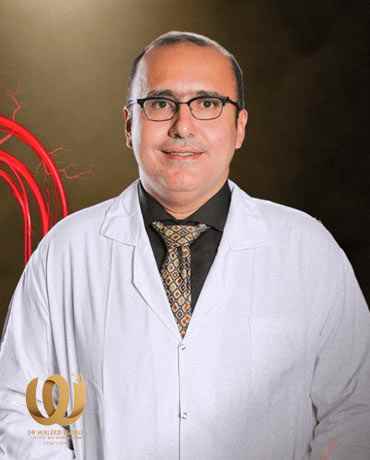 Best Vascular Surgeon in Mohandessin
Vascular diseases are common diseases that are closely related to the lifestyle and diet you follow daily, resulting in a circulatory disorder where it can lead to narrowing or blockage of blood vessels, insufficient blood flow to the rest of the body's organs, and its inability to perform vital functions fully. Its damage requires rapid intervention from the best Vascular Surgeon in Mohandessin. Obesity, smoking, genetic factors, hypertension and hypercholesterolemia are the most common risk factors for those diseases.
Arterial diseases also affect many people as a result of high cholesterol, which results in atherosclerosis. It is considered to be the main reason of other diseases such as hypertension and hypercholesterolemia, or if you have diabetes, you should proceed quickly to treatment and avoid complications.
Who is Dr. Waleed El-Daly the Best Vascular Surgeon in Mohandessin?
Dr. Waleed El-Daly is an Assistant Professor of Vascular Surgery at Cairo University specializing in vascular disease and diabetic foot treatment, Dr. Waleed E-Daly worked in a large number of Egyptian, European and American hospitals, In addition, he has received a lot of international certificates, this helped him to gain that experience to help patients recover faster without having to undergo surgery by using the latest advanced medical methods outside Egypt in Europe and America.
Dr. Waleed El-Daly Center offers many services, most notably:
- Diabetic Foot Treatment
Diabetic foot is one of the complications of diabetes and occurs as a result of the effect of glucose on blood vessels and peripheral nerves that lose the patient's sense of limbs, as well as the lack of sufficient blood reaching the foot causing ulcers that may develop into gangrene if not treated.
- Treatment of Varicose Veins in Legs
It is a very common condition and requires treatment only in some advanced cases where it causes ulcers and pain during rest or effort. Dr. Waleed El-Daly Center provides many therapeutic methods such as laser, injections and surgery.
- Treatment of Blockage of Peripheral Arteries
This condition is caused by the accumulation of cholesterol and fat in the artery wall, whether peripheral arteries such as the leg, foot or main arteries such as the aorta and carotid artery, and may cause clots to narrow the artery and the centre provide the treatment of arteries occlusion by balloon procedure, catheter, and the placement of a stent that reopens the bloodstream.
- Aortic aneurysm repair
This disease is also caused by atherosclerosis in which the artery wall weakens, expands and bloats like a balloon, and there are surgical solutions for advanced cases to avoid its rupture, namely the stent surgery or replacing the damaged part of the artery with an artificial artery.
- Treatment of Gangrene without Amputation
When visiting Dr. Waleed El-Daly at the beginning of gangrene infection, treatment is possible without going for amputation, by treating the causes of insufficient circulation that cause non-flow of blood. Treatment is done through therapeutic catheters or expansion of blocked arteries through the therapeutic balloon with the placement of the stent and cleaning the damaged tissue.
Other services offered by Dr. Waleed El-Daly Center:
- Treatment of Leg Vein Clots.
- Treatment of Intravenous Ulcers.
- Installation of Arterial Connections for Kidney Dialysis Patients.
- Removing Capillaries from the Face and Legs.
Clinic Appointments and Address
Opening hours: Saturday, Monday and Wednesday from 8:30 to 10:30 pm.
Address: 31 Gamaet El-Dewal Al-Arabiya St. - in front of Kaddoura Fish - Alexandria Bank Building.